Your Teacher
IAN SIDGWICK

Ian Sidgwick has been both a professional musician / singer and teacher for many years. He provides a modern approach to teaching in a fun relaxed manner, whether you are wanting to learn simply for pleasure or to take exams.

He has shared the bill playing piano and keyboards with many big names as Phil Colins, The Rolling Stones and Suzanne Vega to mention a few and has performed as a singer himself on American TV.



To hear any of Ian's original work please visit :
www.iansidgwick.co.uk
www.biginheaven.com

Ian also has a recording studio where some of his pupils enjoy recording their pieces and sometimes make small videos which can be seen below.

Ian welcomes all age groups from 7 to 107 and gets great pleasure from seeing pupils develop from being absolute beginners or at a intermediate stage.

If you are interested in singing also, Ian can provide a style of teaching to accompany yourself and help with the singing if needed too.



NOTE: He doesn't look this serious always !!!!!
For all your piano needs!
One to one tuition

Approved by The
Associated Board Of
The Royal School Of Music
Study for exams or just for fun!
Classical / Pop / Rock
Blues / Boogie and Jazz
Beginners welcome!

About Your Teacher
Ian Sidgwick
Student Videos Success's And Testimonials
BELOW


WATCH !!
Sarah Moses
Moonlight Sonata


Canadian born Sarah Moses has only been playing piano for a few months and has taken to it like a duck to water.
After living in Vancouver and Malaysia for some years, Sarah is now back living here in her sunny England where her parents are both from.
Sarah is a teacher and finds playing classical piano very relaxing.
WATCH !!
Chris Masterman
Original Piece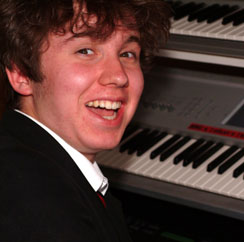 Testimonial
I find ian to be a great teacher and he
puts the "I" in piano !
In fact his name is in the word itself.
It is a joy to be taught by him.
Chris Masterman